Option 1. Buying through Escrow.com  Domain escrow details
Escrow.com protects online buyers and sellers from fraud. It conducts secure online transactions. The buyer pays the escrow fee (Escrow Fee Calculator). Flow chart off how Escrow works.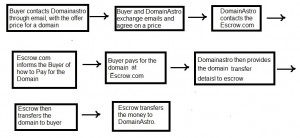 Option-2.  Sedo's External Domain Transfer Service

Sedo's Domain Transfer Service offers buyers and sellers a secure and trusted intermediary for transferring the purchase price and domain name to complete a sale. Learn more by visiting Sedo and read under External Domain Transfer service: Sedo's Domain Transfer Service 
Option 3. Buying through Aftermarket sites(such as Sedo, Afternic)

We will  list the domain in after market sites such as Sedo.com or Afternic.com. You can buy it from there.
Option 4. Partial payment and partial stake in a venture/company (Not applicable to all the domains. This option is available on case by case only)
Note: Special discounts may be available for statups and other special cases if met some criteria ( Domain Astro has its own criteria.)